on Mon Nov 13, 2017 12:42 pm
For a long time I was asking my self, why none of the big controller manufacturers don't want to make descent force feedback joystick or control yoke?   Well the answer to this is not straight forward but for what understand so far, microsoft plays huge part in it.  Somehow, the idea of gaming controller providing force or haptic feedback, is theirs licensed intellectual property.   Sadly, this was subject to many lawsuits between MS and other big companies, creating very hostile environment for any king of development.    
There's definitely great deal of demand for quality FFB devices within flight sim community but we really have just handful of options. 
Apart from MSFFB2 hack, done by Simprojects.nl, we can build one with BFF's driver cards and BLDC motors, or buy the finished product from Brunner-innovation, Iris Dynamics or Flight illusion.
Unfortunately four out of the five options above will set you back somewhere between 1,000 and 2,200 US Dollars. 
As much as I would like to, I don't see this price range as "affordable", therefore I decided to step in and make a change!
OS-CL is essentially an idea of comprehensive force feedback platform, including necessary tools, code, software and diagrams, allowing average hobbyist to build high quality controller for as little as few hundred bucks. 
​Considering how challenging this task really is, I will need help from our community, without a doubt.
​I would like to invite everybody interested in this project to join this forum and make that change.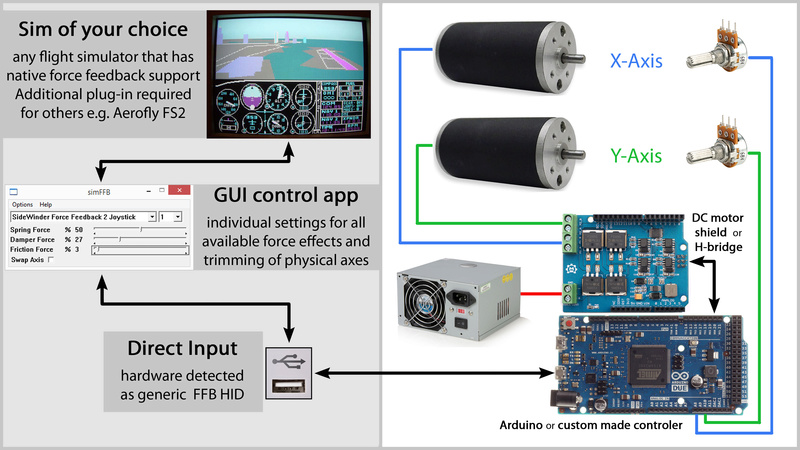 ​There is also similar ongoing (OSFFB) project  
here
  where I'am contributing and seeking help with OS-CL too.
Jay
on Wed Mar 21, 2018 9:14 am
Hi Jay.

This is a fantastic idea. I would love to help and be involved. I fly Helicopter Sims and this concept is overdue for the Heli Sim community.

Let me know if or how I could help.

Kind regards

Duncan
on Sat Aug 11, 2018 10:03 pm
Hi Jay,

I'm looking forward to help you and the community.

Let's go!!

Best regards,
Carlos

Permissions in this forum:
You
cannot
reply to topics in this forum